Anybody who doesn't know what soap tastes like never washed a dog. ~Franklin P. Jones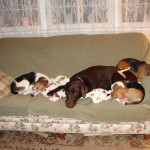 Here is the story of Little Patti and Dashy:
Our story begins with the loss of our special needs beagle, Missy. My feelings of loss were so great that I thought I was done with pets. We still had Bonnie (beagle 14 years) and Max (chocolate lab 5 years) and that was enough. However, 2 months later, I found myself on petfinder after having a "rescue" discussion with some colleagues at work. There was the picture of Little Patti – whose face I could not stop staring at. She just drew me in. So we decided to submit an application for her adoption. We were appoved and went to her foster home with our other "kids" to meet her. She was timid, shy and sweet and was a perfect match for our family. While we were there, another beagle, Dashy, really played it up – laying across our laps, pawing for attention. She also had the sweetest disposition. We found out that she had just been released from the same lab as Little Patti. Well, that was it – we felt we had to keep them together.
So 3 weeks later we went back to get Dashy. We now have our pack of four…… Patti, Dashy, Max and Bonnie. It has been an incredible journey watching them both become true beagles. They wrestle with each other, run and jump all over Max, hunt in the yard, and are complete food hounds! We call Patti our tazmanian devil – she runs, jumps and spins in circle when she's really excited. Dashy is much more subdued with the most soulful eyes you have even seen…That is until the treats come out – then she jumps and barks up a storm. Patti adjusted very quickly – you would have never known she spent her life in a lab. Dashy took a bit longer, but learned very quickly by watching the others. Steps were her biggest challenge – she was so funny to watch- she was all legs.
In the picture starting from left is Bonnie, Max (lab), Dashy is laying on top of Max, and Patti is curled up with him.
Adopting them was the best decision we have ever made. They have brought so much happiness and joy to us. I can't thank Carolyn and BRL enough for all the work they do……..
We're happy to share our story.
~Kelli and Bill, adopted 2011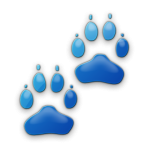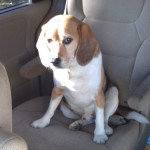 Jesse
We adopted Jesse at 4 1/2 years old from the lab. He is now 6 and we couldn't be happier. He is great. Friendly with all people, but can be so-so with other dogs. That is why BRL told us when we applied that he would be better in a single pet household, which is what we have. Jesse loves belly rubs and snuggling. He is good with our children (six and eight) and he loves to go on walks. He likes to chase squirrels too. We couldn't ask for a better dog than our Jesse.
~ The Vilot Family, adopted 2010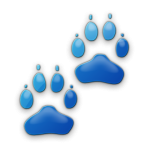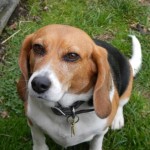 Josie
To paraphrase an old adage, "It's not how you start, it's how you finish". No truer words could be said about Josie; however she's far from being finished! I was told when she was placed with me that I was receiving a "retiree". It's not what Josie retired from but what she retired to; she decided to retire to life in its fullest. We all know the story of these lab retirees…they may be a bit lacking in confidence and may need to learn all about this dog stuff at first but once they can get to all together what a GREAT WORLD is opened up to them. Well, Josie is no different than any other Lab Retiree. But watching her learn and take in take in this big wonderful place, experiencing new things and places for the first time was a wonder. In the yard looking up to watch the birds, planes and clouds just dreaming sitting in the grass or stopping to sniff a flower for the first time. Watching the children on the block play on bikes, skateboards, running or bouncing those big basketballs – how great is that!
As her confidence built, those zany beagle personalities began to show up. One of the first was the kitchen magician who made an entire pork roll sandwich disappear. Then, sometime later, same thing happened, about six slices of pot roast disappeared right off the table!! All with a nod of her head and a wag of her tail – who could get angry? Then we have the Josie who looks you straight in the eye and runs like a deer thru the house or yard. Or we have the beagle that hides toys or bones in the bed so you never know what surprises await you late at night in the dark. And we all know about "table surfing" and "counter surfing" but be assured that Josie has invented her own game of "stair surfing" because NO ONE will beat her down the stairs in the morning since she will just pick up her feet and surfs down the steps on her chest and stomach.
But the real wonder is how she relates to people and makes friend with everyone she meets. Josie is a VERY special beagle with so much love to give. She is a certified Therapy Dog and cannot get enough time with the children and elderly she encounters during her activities. She begs me to take her some place nearly every day. Hearing the children squeal with delight at her presence or the elderly smile and that Alzheimer's patient awaken after she put her paws on her lap and licked her hands was beyond belief. For me, what did I get? Aside from sharing in seeing all of that, I get the gift to be with her all the remaining time – you see she's my "snuggle bug". We get to share all those remaining moments together. The long walks, and her naps on the recliner, belly rubs, hugs and "kisses" in the morning with no one else around and play time in the yard. So how would I say Josie finished? Clearly retired; retired to life at its fullest, finest, happiest and clearly VERY well.
~Sharon, adopted 2009