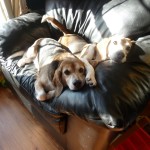 Orion & Baxter
It is hard to know where to even begin to describe the fullness Orion and Baxter have brought to our lives. We adopted Orion 5 years ago. He is one of the first beagles to be released from the lab. We were supposed to keep him overnight to bring him to his foster home. We were a failed transport and we couldn't be happier about it. After spending just one night with Orion we couldn't stand to let him go. He is an absolute love in every sense of the word. He is amazing with our young children and is usually their little protector when they are first born. He is happiest just being with people and laying on his chair. Living the true retired life!
Now Baxter is a bit different with how we came to adopt him. We lost our beloved beagle to Cancer and looked long and hard for a beagle to rescue who would be good with kids and other dogs. We met a couple beagles and they just were not good with our very young and active boys! I found Baxter on the website and knew immediately that he was the dog for us. i believe he was passed up by so many due to known seizures. He has them every so often, but they are mild and very manageable. He will go months without any at all. They don't bother him and we have learned just to help him through and he is good as new right after it ends. Glad we didn't pass on him. We have had him for just over a year now and he settled right in with the whole family. There are never enough licks and wags from this little pup. I think he licks and wags in his sleep most nights! He is great with Orion and they are often found curled up together on their couch or chair.
These two are the happiest, most loving dogs that I have ever known. For two dogs who were in a research lab, you would never know by seeing them now. They love people and animals and pretty much everything! We cannot imagine how we ever were without them.
~ The Shavell Family, adopted 2006 and 2010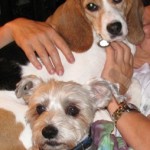 Iris the beagle came into my perfectly fine and peaceful life about 2½ years ago. She was a sweet quiet little dog, scared of noises like pots banging, doors opening, grass growing, visitors in the house, and best of all she was scared of me, Gus – the miniature schnauzer mix – and my barking which I do as much as possible.
I was in charge, see, and that's how I liked it. I barked her off my chairs, took all the best sun spots, bossed her around the living room, took the prime spot in the bed, and generally ignored her presence, you know? She was such a pushover.
Some days, I'd chase a squirrel up a tree and she ran after me. When she got to the tree she looked at me like….now what? No clue about why we were running after it. Pathetic right?
One day she heard me barking and tried it herself. She sounded like me. Imagine, a beagle with a schnauzer bark. Awkward! Now, she barks at noises, cars, joggers, bikers, deer, groundhogs, leaves falling and the mail truck. Frumi and Noa [our humans] are kind of annoyed at me for teaching her, but hey, I'm a schnauzer, right?
Skip to a year later. I'm dozing on my favorite comfy chair and Iris steals my Nylabone and runs to the other side of the room. I chase her to get the bone back and then she runs back and takes my sunny spot on the chair. Not so stupid after all. When she wants to be petted, she simply steps on me to get to the human who is giving out the attention. She eats like a pig, or rather a beagle. Finishes in 45 seconds flat then sits and stares as I eat mine. She loves company and steals all the attention she can. And she can scrunch between me and a human in the bed without breaking a pant. She has become a formidable opponent.
Iris barks like a beagle, now too. So annoying. Not sure how she learned it, maybe Rosetta Stone, but she sounds pretty authentic. Arooo! Arooo!
All in all, she has become a pain in my tail, but the humans, Frumi and Noa seem to love her dearly. And now — I sometimes hear them talking about adopting another lab to leash beagle. Please, just shoot me now. HELP!
-Best Regards,
Gus, the (rescue) miniature schnauzer mix, displaced 2009
For More stories, click the mailbox.