"Beagles are lousy watchdogs. They usually bark when there is a stranger about, but it is an expression of unmitigated joy at the chance to meet somebody new, not a warning."
~ Norman Strung
Rescue would just not be worth it without lots of Happy Tails to tell. Here are a few stories that we wanted to share. Please don't be shy – if you want to write us with your ow> success story, please do! Sometimes when we need a reason to do what we do, these stories are just the thing to remotivate us!!!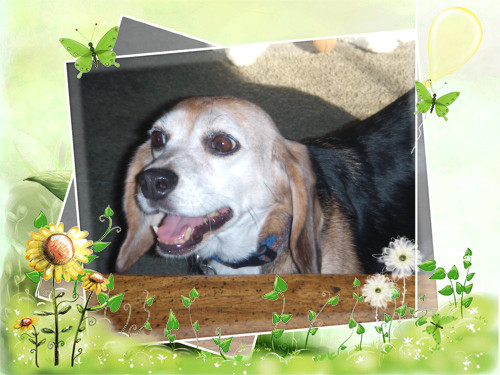 Ava or our "little girl" as we now call her spent the first 6 years of her life helping to make medical progress through her "work".  Then, after first being fostered by a wonderful family for 6 months, she came into our lives. We saw her at a rescue event, and as the saying goes "it was love at first sight!" and a welcome addition to our family!
While at first, she was a little skittish, didn't like doorways, and loud noises startled her, she has completely turned around! At first she didn't like to cuddle, however now she is quite the "cuddle bug". She is very loving, gentle, and at times even protective. In the beginning, she slept in her crate every night but that didn't last long, and now she sleeps in our bed. If Ava could speak she would say its "HER BED!" Yes…we sleep in "HER BED". She spins around in circles and runs back and forth like a boom-a-rang when she is happy….which by the way is 99% of the time. She runs around so fast, that she forgets to stop and then we all have a good laugh at her expense.
Providing Ava a forever home, giving her another chance at life, and a happy cozy place in which to retire from her "work" has been very rewarding. She gets along great with our older beagles and has even managed to make my normally SUPER LAZY beagle Sherman move active…and that is quite a feat! It's been exciting to see her experience things like rain, snow, or even the crackling of leaves under her feet in the fall…..all of which were completely new to her having come from a lab environment for 6 years.
While her tail used to be just a tail…it's now a "Happy Tail!" Thank you for allowing her to complete our family!
~ Russ and Christina, adopted 2010

So the story starts one year ago today. I picked up a little girl who was to be my foster dog # 2. We met in Willow Grove at Best Friends Pet Resort. What a little pork roll she was. She was never outside of the Lab and I was the fortunate one who was going to help her explore all the world had to offer. All she wanted was attention and belly rubs…
It started with the ride home. 1 HOUR OF PURE TORMENT FOR THE LITTLE GIRL. She threw up several times and peed in her crate. So we get home and let her experience grass for the first time. We got it on video… Awesome.
The training began. First we needed to get her housebroken for her new forever home. Well that was going great for about a week! then no consistency. We tried other options and everything failed. I was at the end of my rope…. literally!
I tried leash walking but she was so scared of the cars it didn't work. What was I going to do??
Well at about this time my other Beagle had a scare with cancer and this little girl became the best nurse maid for a fellow beagle you could ever see. Mind you she still peed in the house, still couldn't ride 2 minutes in a car without peeing or throwing up – she even would throw up her meals from stress. But it didn't matter. Her little lovable self overpowered all of the minor training issues we had.
It was with the way that she treated her foster sister that made me realize YOU WERE THE ONE! Fast forward 1 year to the day and a TOTAL commitment to Helping Her be a SUPERDOG. My Little Gabby Rae is 99.9% on command house broken. She watches TV with me, keeps me warm at night and wakes me up with her kisses. She sleeps in her bed with her little tongue hanging out looking so content. She tells me its time to go out and she even sits and waits to eat till I tell her its OK. She goes 6-8 hours alone without an accident and can even take little rides in the car. She is the BEST sister another beagle could ask for. She is mostly quiet but when she speaks it is so special. Oh and she still only wants attention and belly rubs…
Carolyn and Pattie gave me the PERFECT LITTLE GIRL. She may have faults but I don't see them. To all who help these little creatures – you are amazing people. To those of you who have never fostered – DO IT! To see a little beagle go from a lab or a shelter dog to a PET is an amazing reward that you have to experience in your life.
To make one a family member is an honor you will cherish forever.
~Dean, adopted 2010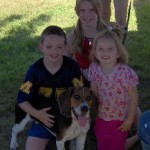 Odie
We adopted Odie on June 10,2006-and boy did he become part of our family! In the beginning I think little Odie (6 1/2 months) was on his best behavior, hoping we wouldn't send him away. But once he realized that he could trust us, his true personality shone through. He combines puppy playfulness with snuggles & snoozes-we think he is the best dog ever! Of course we have had our share of obstacles to overcome (and are still working on!) but our Odie is so special, it is all worth it. Thank you, Pattie for bringing this furry boy into our lives-we don't know what we would do without him.
~ The Durkin Family, adopted 2006
For More stories, click the mailbox