"When someone you love becomes a memory, the memory becomes a treasure." – Author Unknown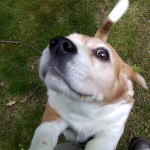 "KC" Mainardi was a lucky beagle.  Despite being given away by her owner, she had the quite fortunate experience of ending up in the loving hands of one of our volunteers and supporters, Dean Mainardi.  (Many dogs are not nearly so lucky…)
Many dogs surrendered by their owners are labeled as having "behavior issues."  In some instances, this is accurate.  In many cases, however, we note that these are often excuses, whether to help ease guilt, or if just the reality of the dog unfortunately ending up in the hands of an owner unwilling, unable, and often ill equipped to appropriately train a dog. Beagles are not for everyone.  It is why we carefully screen our adopters to make sure a beagle will be the right fit. In KC's case, however, she turned out to be the perfect fit for Dean.  In 2007, Dean brought 4 year old KC out of the situation she was in with her original owner, and opened his heart enough for this special beagle to wiggle her way right into it .  No true behavioral issues or aggression were ever noted in KC, and she lived an amazing and loved life with Dean until she passed over the Rainbow Bridge, on her own terms, on December 10, 2015.
Dean cared for KC in a way that we wish all people would.  She was his travel buddy, and was "that special one" that just seems to get us.  Every now and then we bond with a dog that is special to us in so many ways.  Dean helped KC through her battle with mast cell cancer, Cushing's disease, and disc disease. He cooked her meals and provided the best veterinary care available.  No matter how much we do, though, we have the realization that the lives of our beloved beagles are just not long enough.  There is a time when we have to say goodbye, and KC made the decision to fight as long as she could until she peacefully passed in her own home, surrounded by those she loved.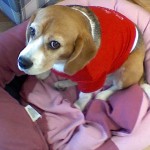 Close to the time that KC made her journey to the Rainbow Bridge, BRL was making arrangements and fundraising to offer a new life to 40 beagles being released from a research facility.  Dean and his family found themselves looking for a way to help these beagles get started in a new life, and also pay tribute to the sweet soul that touched their lives and left them with a hole to fill…thus was born the KC Mainardi Memorial Fund.
The Mainardi Family made a generous matching funds donation to help us welcome 40 lives…"KC's Christmas puppies and their 13 "Moms" in December 2015.  One of the female puppies was named "KC" and it will be a requirement that her name not be changed. In addition, to honor KC's history of being "given up" and the second chance that Dean gave to her, the KC Mainardi Memorial Fund will offer such a chance to one dog each year.
Once a year, Beagle Rescue League will make it our goal to bring in an owner surrendered dog in KC's honor to help them become someone's treasured pet.  We currently do not, and have not, accepted owner surrendered dogs simply because we believe that in most cases, an owner surrendered dog has more time than a dog in their 11th hour in a shelter.  With limited resources and space, we must make difficult decisions, and have had to focus our resources to those coming to rescue via shelters or research facilities.  The KC Mainardi Memorial Fund will allow us to step into this new area to offer a second chance and a new life to a lucky beagle each year.
KC's memory will not only live on, it will help future unwanted dogs find the loving homes they deserve. If you would like to donate to this fund and this effort, please click KC's picture below:
To have your dog, or a dog you know of, considered as a candidate to be brought in to BRL through the KC Mainardi Memorial Fund, please email us here with information.
Dogs brought in through the KC Mainardi Memorial Fund:
2016:July 2016, Bagel was accepted through the KC Mainardi Memorial Fund. Through correspondence in planning her intake, her owners decided to hire a trainer and to continue to work with her.
December 2016, Snap was accepted through the KC Mainardi Memorial Fund. His owner moved in with relatives whose lease did not allow pets.
A word of thanks to Dean – for loving KC every moment of her life, and for providing premium medical care for a "throwaway dog" that no one else wanted.  We are honored to support your efforts to allow KC to pay forward the momentum you started so very long ago by opening your home to a little dog in need of a best friend, forever.