"Because Every Super Dog Needs A Hero…."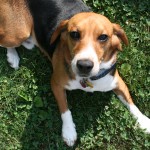 Have you ever heard the saying: "Give a man one fish and he eats for a day? But teach a man to fish and he'll eat for life?". Believe it or not, the same theory applies to fostering a dog. If you adopt one dog you are giving that one dog a forever home. But if you can foster a dog, you open the door to saving many lives that otherwise may have ended needlessly.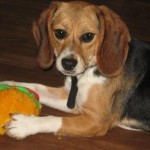 Beagle Rescue League, Inc, based in Northwest NJ and Bucks County, PA is actively searching for foster homes for some truly super dogs.
Beagles in our program come to us with a variety of backgrounds: some arrive from high kill shelters in the southern U.S while others are released to us via collaborative efforts with biomedical research facilities where dogs are retiring from their "jobs" in the medical community.  The amount of care needed by each dog can vary dramatically.  Most shelter dogs have lived in a home and may be partially housetrained.  They often know basic commands and have lived in a family environment while laboratory research dogs can require more in-depth care as many have not had the luxury of experiencing simpler things in life that we take for granted such as car rides or leash walking.
The length of time dogs remain in foster families also varies. We do everything we can to spread the word that our rescue beagles are available. Some are in foster care for a few weeks, and some for a few months. Some are even adopted by their foster families! Whatever the case may be as a BRL foster family you will work with an assigned mentor. Mentors are available to answer questions, assist in training or behavioral issues, and more. Best of all, they have foster dogs themselves, so they have a first-hand knowledge of the process.
Beagle Rescue League provides everything you will need on your journey as a new foster home.  From crate, veterinary care, food, toys and more we are with you every step of the way.
The role of a foster home is the most important of all because you have the capacity of shaping a dogs future.  By providing a caring environment, a warm place to sleep and patient socialization, you have the ability to change the future for a dog.  With the help of a loving foster family, we have seen dogs blossom and become treasured, forever companions to their new families
Volunteer foster homes must live in one of the following counties in NJ (Morris/Warren/Union/Middlesex/Mercer/Hunterdon) or PA (Bucks & Montgomery).  We require that you attend at least one adoption event per month to showcase the foster dog in your care (currently we are partnered with Petco/Petsmart/PetValu).  We also screen foster homes carefully and make every effort to match a dog to you unique, personal requirements.
Fostering is rewarding, fun and it literally can save the life of a dog!  Please say you'll help us to help them!            
Ready to become a hero?  Click on the bone below for our application to foster: