"Because Every Super Dog Needs A Hero…."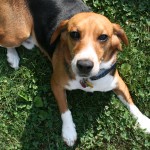 Have you ever heard the saying: "Give a man one fish and he eats for a day? But teach a man to fish and he'll eat for life?". Believe it or not, the same theory applies to fostering a dog. If you adopt one dog you are giving that one dog a forever home. But if you can foster a dog, you open the door to saving many lives that otherwise may have ended needlessly.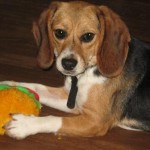 Beagle Rescue League, Inc, based in Bucks County, PA, and serving Eastern PA and NJ, is actively searching for foster homes for some truly super dogs.  We do not have a facility.  That means that we cannot bring in any dogs unless we have foster homes for them to go to!
Beagles in our program come to us with a variety of backgrounds: some arrive from high kill shelters in the southern U.S, while others are released to us via collaborative efforts with biomedical research facilities where dogs are retiring from their "jobs" in the medical community.  The amount of care and training each dog needs can vary dramatically.  Most shelter dogs have some type of experience living in a home, and may have some basic "skills" with an idea about housetraining and/or a few commands.  Laboratory research dogs require more in-depth care since they are learning about everything involved with living in a home, such as going up and down stairs, going to the bathroom outside, walking on a leash, and even riding in a car! Research beagles are therefore fostered by experienced foster homes.
Here are some general points about fostering which can help you decide it it may be right for you!
Foster families must submit an application, agree to a veterinary reference, interview and home visit.  Upon approval, the foster families' contact information will be provided to the PA Dept of Agriculture as part of BRL's kennel license requirements.
Beagle Rescue League provides you with initial supplies including a crate, dog bowls, collar, harness, leash, toys, treats and food.  Foster beagles are fed

Fromm Adult Gold

, and we reimburse our foster homes for this expense.
Beagle Rescue League pays for all veterinary care for our dogs.  (Vet care must be provided by specific practices that work with BRL.)
In general, foster families are not allowed to adopt their first foster dog, but may adopt subsequent foster dogs.
The length of time a dog is in foster care varies from weeks to months.  We ask that foster families commit to fostering until the dog is adopted, regardless of how long that may be.
What would be required of a foster home?
We need foster homes in the following counties: in NJ – Morris/Union/Somerset/Hunterdon/Middlesex/Mercer or PA  – Bucks & Montgomery. You can

contact us

if you live outside of these counties, but we cannot consider foster homes outside of PA and NJ.
Any current animals in the home must be licensed, have a history of routine veterinary care, be up to date on vaccinations, and be spayed/neutered.
You need to be willing to crate train and housetrain a foster dog since we do not know the housetraining status of our shelter intakes, and our research intakes always need to be housetrained.
You need to be able to easily get your foster dog to one of our veterinarians, located in Monmouth Junction, NJ or Morris Plains, NJ. This is one of the most important factors in accepting foster applications. In PA, you need to be able to easily get your dog to Yardley, PA.
You need to live within roughly one hour of one our Directors.  A Director attends all adoptions, and more than an hour distance is too far to consider traveling for adoptions at this time.

You need to try to attend one adoption event per month to showcase the foster dog in your care (currently we are partnered with Petco/Petsmart/PetValu).  We try to have events in both NJ and PA, and you are notified of these events.
Fostering is rewarding, fun and it literally can save the life of a dog!
Ready to help us?  Click on the picture below below for our application to say you'll help us help them!