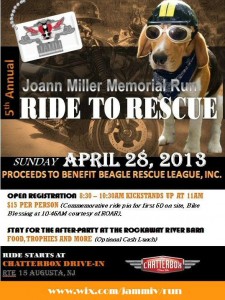 "There are no strangers here, only friends we haven't met"~Anon

Who would have guessed that our biggest and most successful yearly fundraiser would be a motorcycle run created to honor a former volunteer?
Beagle Rescue League has raised more than $15,000.00 since the inception of the Joann Miller Memorial Run (JAMM) nearly five years ago. Created in her honor Joann Miller was a dedicated beagle lover and a friend who supported us in the early days of rescue. We know that she would be humbled but proud to have her name associated with this event.
In 2012 nearly 275 "bikers" came out to show their love of dogs and donate to Beagle Rescue League to help us raise funds to offset the costs of boarding, veterinary care and shelter fees – all for the love of the breed Joann gave her heart to. Jamm takes months to put together but it's a labor of love that we are rewarded for honorably.
This year our run will take place on Sunday April 28th and we're excited that this event, now in it's fifth year has been so well received by the general public.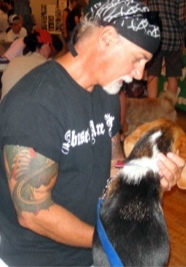 Once again we will be joined by members of the American Legion Riders, the NJ Drifters Motorcycle Club, Christian Ministries Association Riders (ROAR), and even a group of women riders, the legendary Motor Maids.
As always we will have a full line up of events to make this fun, safe family event a success.
Merchandise donations are pouring in from the likes of the NY Giants, NY Jets, NJ Devils, North Jersey Customs, and we know that our sponsors are behind us 100%.
You can visit the website for full details at www.wix.com/jammiv/run or you can come out and experience JAMM for yourself. We are very proud of what we have accomplished with this staple event and would be remiss if we did not extend heartfelt thanks to Joanns husband, Lou for allowing us to keep her memory going in the name of helping dogs.
"Only a biker understands why a dog hangs his head out of the window"