"Calendars and clocks exist to measure time, but that signifies little because we all know that an hour can seem as eternity or pass in a flash, according to how we spend it."~Michael Ende

Man's best friend comes in all shapes and sizes. And for every breed there is a horde of devotees. If you have ever looked at the adorable Beagle calendars for sale in your local mall or pet shop and wished that a picture of your best buddy could be on them, here's your chance to make them a superstar.
Beagle Rescue League's Fourth Annual Calendar Contest
We are pleased to announce that BRL is creating a 2015 calendar using Beagle photos submitted by YOU, their owners!! That's right! You can submit pictures of your dog(s) to be included in the final printed calendar to display proudly at your home or office.
Here are the Rules & Guidelines for entries & more…
The Entry Phase begins on 8/25/14 and will end on 9/29/14 which gives everyone approximately 3-4 weeks to get their photos to us!
This contest is open to any rescued Beagle. That means they do not have to be BRL alumni and YES, your dog can be a beagle mix (as long as he looks sorta like a beagle LOL).
The entry fee per photo is a non-refundable $10.00. Please email your photo to: calendar@beaglerescueleague.org. You may submit your entry fee via Paypal by using this link:

Photos MUST include a rescued Beagle. Other critters in the photos are allowed as long as they are not the two legged kind.
Digital photos are required due to time limitations. They should be at least 300 DPI to produce a high quality end product.
Photos should be in a standard electronic image format (.JPG, .PNG, .PSD, .BMP .TIF are all acceptable for digital photos).
Photos MUST be sharp, crisp and good quality. Poor quality pics just look worse when enlarged. If our team deems the pics entered are not eligible we will advise you via email and request an alternate.
We can NOT accept traditional (paper) photos, Cell phone photos, Professionally created or copyright photos.
Please do NOT alter the photos by cropping, etc. If we can "fix" the photo for you we will do so. If we cannot it will not be used and you will be asked to provide an alternate for us.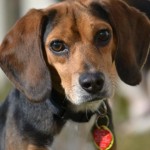 The Voting Phase will be Tuesday 9/30/14 through Sunday 10/20/14.

Photos will be posted here weekly of all entries and we'll ask you to vote for your favorites once the voting period begins.
Each vote will cost $1.00, submittable via PayPal. Note: The "voting button" will not be available until AFTER all entries are in.
All votes will be tallied and the accumulated totals will be posted next to each dogs picture. This will give everyone the opportunity to see how the voting is progressing.
NOTE: Please limit your votes to 50 per person per dog! In order to make the contest fair to all income levels…any votes over 50 per person per dog will not be counted, but we are always grateful for the additional donation! The last day to vote is October 2nd, so hurry! [Note: all 50 votes may be placed in one interaction by adding to the quantity. Your votes count as a charitable donation, and are tax deductible in accordance with IRS regulations.
Tallies are listed each day but if you vote after 9pm you will see your votes reflected the following day.
At the end of the voting phase, the Beagle with the highest number of votes will appear on a full page spread of our calendar. The winner will also receive a free copy of the calendar!  The next 11 highest vote getters will appear as a highlighted photo on a main calendar topper page too.
Note: If the most popular photo happens to be a holiday themed pic (Halloween for example) that photo will be displayed on the corresponding month (so in my example the photo would go on Octobers page) and an alternate for the cover may be requested.
All remaining entries will be randomly displayed throughout the calendar at our discretion – either on a topper or within the date squares so that no one is left out.
CALENDAR VOTING IS NOW CLOSED!!! Thank you to anyone who voted or sent us photos of their beloved pets!
The Final Phase will begin on Monday 10/21/14 and end 10/31/14 to allow a month for printing, mailing, etc so your calendars are in hand by early December.

Finalizing the calendar, sending to printer for reproduction and shipping prep.
Purchase A Calendar 
Calendars will be available for sale via a link on our website as soon as they are ready for a $20.00 per calendar fee which includes shipping directly to you! This is a new option this year. We'll still have some available at events but we opted to allow direct ship from the company so you don't have to wait for the calendar!
Last year we raised more than $2500.00 with your help! Lets see if we can top that!