"I believe there are angels among us, sent down to us from somewhere up above. They come to you and me in our darkest hours, to show us how to live, teach us how to give and guide us with the light of love" ~author anon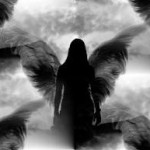 This page is dedicated to those broken souls who have lost their wings but have not forgotten how to fly.   Each of these dogs was transferred to us from another rescue, but sadly without even a dime of their accompanying sponsorships and/or any financial support. They were all long-term, special needs dogs, and Beagle Rescue League has been committed to them from the start. We do not have a facility to house dogs which have been "unadoptable," but we do keep our commitment to them and do what we can to provide for them every day in a loving foster home. Each of these beloved dogs has been lucky enough to find, within Beagle Rescue League, a Guardian Angel to watch over them….
Cammie came to us in 2007 at the age of 1 year when we were with another rescue. She was brought in by her owners to their veterinary practice in Warren County, NJ for boarding while the family vacationed in Florida. However, when the office manager tried to call her family she found they had relocated and left little Cammie behind, abandoned. To add insult to injury, Cammie had behavior issues that were not disclosed to us when we pulled her into rescue to help her. By all accounts, Cameron would have been classified as a special needs dog. She was fearful, anxious, and could not tolerate being handled. We had to make the difficult decision of euthanizing her or putting her in a very experienced foster home. We chose the latter, along with some help from the University of Pennsylvania Behavior Clinic.
Fast forward years later and today we have a very different dog, all for the love of her foster mom. Cammie is an ambassadog for BRL and has been living with any number of other dogs that come in to temporarily share her foster home. Cammie can now attend public events with other dogs. Cammie has learned many basic skill commands and is on her way to becoming a dog that is a pleasure to be around. Cammie still requires a very patient and gentle hand. She may never totally be over her anxieties but she is light years from where she started off not so very long ago.
Although we would love for Cammie to find a home to truly call her own, she has been loved and cared for by her BRL foster mom and BRL will continue to support Cammie for as long as she needs us.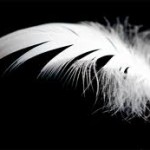 "Angels may not come when you call them, but they'll always be there when you need them." ~Author Unknown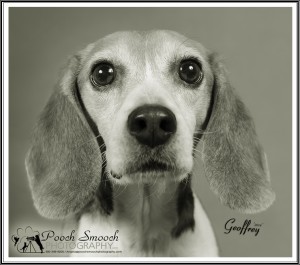 GEOFFREY
Bred for research, Geoffrey was retired from laboratory research in 2008 when he was just 2 years old due to issues with his kidneys.  He was born with a condition which did not even allow him to be used in the research studies. The laboratory contacted us since the only option for Geoffrey was euthanasia – OR the Lab to Leash Division of Beagle Rescue League. What Geoffrey has is called glomerulonephritis (GN), an insufficiency of kidney function which causes him to lose protein (proteinuria) through his urine.  He was likely born with this condition since his kidney values were not normal when he arrived at the research facility when he was a year old. There are dogs that can live many years with "GN" with basic support, but his condition is life long. Currently on ACE inhibitors (Benazapril), and an otherwise holistic approach, Geoffrey routinely has blood work done to monitor any changes to his condition.
Beagle Rescue League has invested quite a bit of time, effort and of course financial resources to make sure that Geoffrey receives the optimal health care as any disease involving the kidneys has to be very closely monitored. Geoffrey sustained an ACL tear in his left leg in Aug 2014, and had surgical repair for that in addition to the removal of a benign lesion on his torso.  As happens with many dogs, Geoffrey has since torn his other ACL, and will undergoing surgical repair in late March 2016. Geoffrey doesn't seem to know that he is a very special dog, but we do and we're happy to have him as a permanent Beagle Rescue League "guest".
Geoffrey is ADORABLE, and just loves to cuddle and while initially afraid of just about everything – including his own shadow and reflection in a mirror, he has come a long way since he was brought into rescue. We can't call him unadoptable but we have never found a home suitable for little Geoffrey. After 8 years in his foster home, we feel it unfair to try to re-home at this point, so BRL will continue to provide for him as he is happy just sharing his life and home with his foster siblings in the arms of a Director of Beagle Rescue League.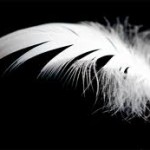 "Angels descending, bring from above, Echoes of mercy, whispers of love." ~Fanny J. Crosby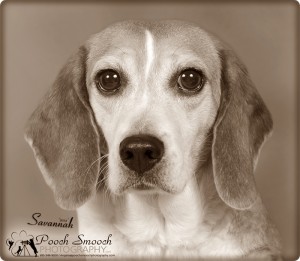 SAVANNAH
We can say so much about Savannah! She is one of the rare dogs that was an actual service dog in a surgical kidney transplant procedure and today has just one kidney (her own!). Retired from a biomedical research facility at the age of 1 year in 2008, Savannah is one of the shyest and sweetest dogs you'll ever meet.  She LOVES other dogs and loves to play and romp in the yard. Not a fan of handling at first, Savannah brought to us a new challenge – to have a dog with severe fear issues learn to trust another person enough to allow them to interact with her on a new level. Each time her foster mom approached Savannah, she would bolt. Strange sounds, strange sights – so many small everyday things caused her great distress. With an astronomical amount of patience, proper handling skills and a gentle touch, Savannah gives her "guardian angel" kisses all the time, and is as typical a dog now as you would ever find.
In new environments and with new people, though, Savannah would revert to her old behaviors and fears. For this reason we believe Savannah will forever remain within Beagle Rescue League. She is a very beautiful dog who has over the years, met several prospective adopters but when they had the chance to adopt Savannah they realized they were not going to be able to give her the love and attention she so desperately needs. We know that she is in her proper place (with one of Beagle Rescue Leagues Directors) and it is the place that Savannah now knows as "home".  BRL has provided all veterinary care and supplies for Savannah, including a major laceration repair to her leg (from cutting it in her yard) in 2009, as well as a major intestinal blockage surgery in 2014 after she ate a rope toy that was intended for one of the foster puppies in her foster home.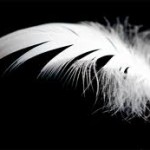 "Guardian Angel pure and bright, guard me while I sleep tonight." 
Walker was released for retirement from biomedical research in 2009 at the age of 4 years. Within a week of arriving at his foster home, Walker accidentally pulled out of his collar and was lost in Princeton, NJ for 8 agonizing days. Volunteers within BRL organized search parties, plastered posters all over Princeton, and worked cooperatively with the amazing animal control officer.  After setting up several humane traps, and getting daily sightings, Walker was eventually trapped and returned to BRL onthe 8th day.  Walker seemed a bit traumatized by his experience.  We worked through dog aggression, and various anxieties with him and locating a home to help him was difficult.  When he was brought to a new foster home, he was terrified to go outside. Environmental noises increase his anxiety, and thunderstorms and fireworks are troublesome for Walker.  After several years of little adoption interest in Walker, he was entered into our Guardian Angels program.  At the end of March 2016, Walker needed to undergo an emergency intestinal surgery for ingesting strings of carpet from a throw rug.  We are praying for his recovery.  BRL will provide for Walker as long as he needs it, and right now, he could certainly use some prayers. 
A message from the Directors of Beagle Rescue League:
The dogs within this page are not bad dogs, incapable of being rehabilitated or dogs that pose any type of safety hazard to the public. On the contrary, these dogs simply have needs that other dogs we have met do not. Some of their issues are medical, some behavioral. It does not mean that they should be euthanized or given up on. Instead, we consider them members of our family. If we had a sanctuary, they would reside within those walls for the remainder of their lives. Because we don't have that luxury, these very unique dogs will simply live their lives with their guardian angels.  Given their lifelong special needs, and the loss of the funds previously raised for them through another rescue, they could certainly use your support.
Please consider contributing towards the veterinary care, food, and other essentials for these long term BRL alumni!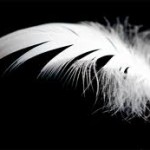 "Make yourself familiar with the angels, and behold them frequently in spirit; for without being seen, they are present with you." — St. Francis de Sales