"The one absolutely unselfish friend that man can have in this selfish world, the one that never deserts him, the one that never proves ungrateful or treacherous, is his dog. He will kiss the hand that has no food to offer; he will lick the wounds and sores that come in encounter with the roughness of the world.When all other friends desert, he remains." – George G Vest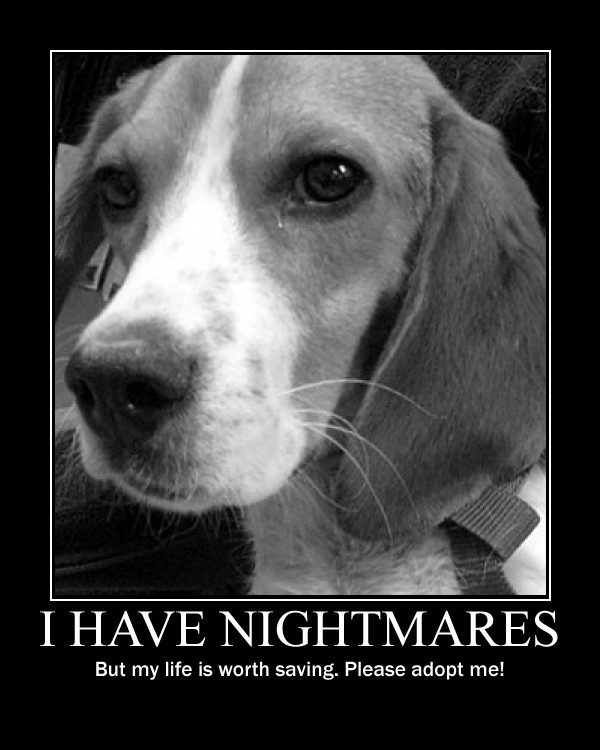 Update: Benny is doing very well in his foster home and we believe his sleep disorder falls within the realm of our original assumed diagnosis of REM-Sleep Behavior disorder (poor baby). He is loving, playful, affectionate, and every bit a "beagle." He has quite a beagle howl and bay, and can sometimes get just a little overstimulated so days with tons of activity can be a little bit much for him. He really just needs a loving home to understand his disorder and to take the appropriate measures to insure his – and others' – safety, i.e. have Benny sleep in a crate!
A death sentence is what this beautiful boy was facing. Surrendered to a shelter because of a misunderstood medical condition, imagine what destroying this 1 year old dog would mean to his former owners, the caring shelter volunteers who reached out to us, and to the community of people who have rallied to save him.
BRL was contacted to help him because frankly, we have experience with RBD (REM-sleep Behavior Disorder). Hearing his story was like deja vu for us.
The shelter described him this way:
"This adoring beagle is a juvenile, neutered male, who was surrendered to us. He is very sweet, but has been diagnosed with sleep tremors, though the vet that saw him is expecting him to grow out of it. The sleep tremors were described in detail by his first owner. "When sleeping day or night, our dog would awake suddenly and bark alot. Not the beagle's typical howl, but a more alarming type of bark. He would instantly stop and settle down as we called his name."
The shelter thought that they had an appropriate home for this little guy but only days after adoption he was returned again. Though the staff had explicitly explained his medical condition, symptoms, behaviors and warned the new adopter's that this little boy had to be routinely crated for sleeping, the family didn't listen to the counseled advice and had him sleeping in their bed. During an RBD episode, the dog suddenly woke up, bit his owner's hand, and caused some property damage.
With a bite report behind him, the shelter felt hopeless and turned toward a series of beagle rescues in hopes of finding one that would be able to give them what they needed to find the proper home for this dog who had thus far been so misunderstood.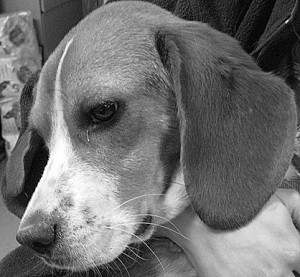 "Every one of them replied very quickly but all with very different opinions. About half of them were full and had never heard of that sort of behavior in Beagles, but one of them had experienced a similar issue back in 2004."
That one rescue was Beagle Rescue League. When the Directors of BRL volunteered with another rescue, they encountered a similar dog named "Sam" that does indeed have RBD, with a description so similar to Benny. While we thought Sam was unique, we have heard of numerous reports from owners searching for what might be wrong with their dog and have found comfort in Sam's story. In fact, Sam has been mentioned in Dr. Carlos H. Schenck's book Sleep: The Mysteries, The Problems, and The Solutions. Once people have information, this disorder is not so scary. No one else wanted Sam and just like the dog you see here, Sam faced certain death. That does not have to be the case.
Does this story have a happy ending? So far – yes. Benny has been under the care of Beagle Rescue League. We will find him a home where the adopters will follow the tutoring that we can provide from our experience and we know already that whomever brings a forever, happy ending to this baby's story will have to have a special home.
Benny will need a home without children under 12 years of age (and without the possibility of children in the future). He will need a patient, loving, caring family to go to who loves him enough to be sure that he sleeps soundly and safely every night in his own crate.
He needs a second chance, just like the chance that Sam was given back in 2004.
If you need more info about REM Sleep Disorder, we implore you to read the wonderful story of Samwise here:http://www.withoutavoice.net/Sam.html
Stay tuned for more info as we learn about this sweet beagle who needed a second chance. He may have nightmares, but he deserves to live a dream…
To help him, please consider sponsoring him – simply click the paypal "Donate" button below.